Donahue Printing is a full service printing company offering quality service, by people who care, utilizing equipment and craftsmanship to ultimately provide you will a project that from start to finish you are excited about!
Examples of our services:  Brochures – Calendars – Movie Posters – Publication Ad Posters – Direct Mail Packages – Fine Art Lithos – Point of Purchase Materials – Booklets – Binders – Catalogs – Folders – Envelopes – Perfect Bound books – Museum Art Books – Digital Printing.
---
---
 PRE PRESS ~ DIRECT TO PLATE/ELECTRONIC PREPRESS:
The key to great printing is great pre press. That said, a little planning can save a lot of disappointment. Before beginning your project we review your objectives, budget, and timing. We take that information and provide you with expert solutions that will produce your ideal finished product. We will work with you to ensure your finished piece meets your desired outcome
Our expert technicians bring out the best in your original artwork through exceptional digital proofing and retouching.
DIGITAL PROOFING

With Donahue's digital proofing options, we can quickly generate proofs that accurately reflect the printed piece. Delivering consistent color across multiple rounds is what we do!
RETOUCHING
Donahue Printing's reputation is established as a high-end color separator. Our meticulous attention to art reproduction shines in every piece we produce. Our expert staff will apply an unwavering level of detail and care to your project. Our seasoned staff of color retouchers are here to enhance or color correct if necessary.  If specialty paper, printing processes or inks are part of your design, we'll prepare your art for optimal reproduction.
DIRECT TO PLATE / ELECTRONIC PRE-PRESS DEPARTMENT
COLOR CORRECTION AND PAGE ASSEMBLY
Five Macintosh Workstations including (3) 6 core mac pros with 64gbs of ram
Eizo Color Corrected/Calibrated Monitors
An Apple Server and Windows Server with Thirty Terabytes of Storage
PROOFING

EPSON 4800 17" Digital Proofer
EPSON 9900 44" Digital Proofer with K3 Archival Inks
DIGITAL PRINTING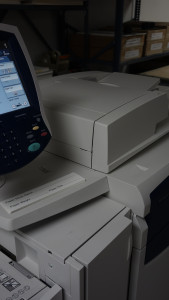 Our Xerox 700 Digital Press offers flexibility to print a wide variety of applications, on both coated and uncoated paper with ease and quick turnaround and exceptional image quality.  Add in the capability of variable data to your projects which introduces a way to personalize your message for each individual and allows you greater marketability. And, when a shorter run is needed, digital printing is the way to go!  The flexibility of digital printing is endless with paper choices up to 100lb cover.  Whether you are looking to reproduce a catalog, manual, tri-fold brochures, bi-fold mailers, variable print postcards, direct mail or photo book and calendars, digital printing may be your option.
Xerox's 700 Digital Press has won several awards over the years from Graph Expo, International Association of Printing House Craftsman, Gold Ink Awards and Digital Imaging Marketing Association to name a few and is Certified by Fogra, PANTONE® Matching System, PANTONE GOE™, and PANTONE Plus to ensure accurate color matching.
DIGITAL PRESS
Xerox 700 digital color press 13" x 19"
PRINTING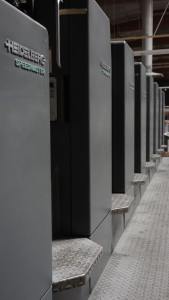 Our expert staff works round-the-clock to ensure your printed piece not only meets our high standards, but it delivers on time. Our operators continuously monitor your project to ensure it matches your color proofs or press run approval. We will work diligently to perfect the projects that you have worked so hard on to bring to life. One highlight of your project should always be when ink meets  paper. This is the time that the passion you've invested into your concepts comes alive and we'll make sure that is the case.  Our seasoned crew of expert pressmen are dedicated craftsmen who follow strict quality assurance procedures that ensure your project meets your expectations.
PRESS DEPARTMENT
Mitsubishi 40″ 7/color diamond with aqueous coater
Heidelberg 40″ 6/color cd with aqueous
BINDERY
Finishing your project is as important as all other phases.  Our bindery department offers the highest of standards and we approach finishing as methodically as we do all other phases of the production process.  Quality control is in place throughout the finishing process and we work with pride to prevent scuffing and cracking.  Careful precision is invaluable when seamlessly matching crossovers and we work continually to ensure that each project is finished to perfection.
BINDERY
2 Folders
1 Computerized Cutters
1 Saddle Stitchers
DIE CUTTING
Heidelberg 25" x 35.5" Die Cutter